2019-2020 Anspach Lecture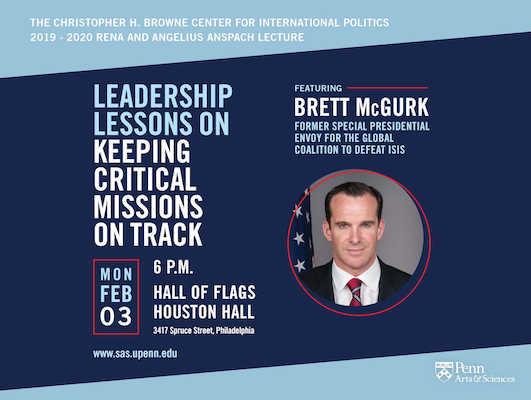 One of the longest-serving and most effective national security experts of his generation, Brett McGurk served as a top advisor on critical diplomatic and military strategies under Presidents George W. Bush, Barack Obama, and Donald Trump. Deeply involved in Middle East strategy and diplomacy, McGurk helped design and then led the successful campaign to defeat ISIS together with a coalition of 75 countries.

Serving as Special Assistant to the President and Senior Director for Iraq and Afghanistan under President Bush, McGurk helped develop "The Surge," a fundamental and successful shift in Iraq war strategy. Under President Obama, he served as Deputy Assistant Secretary of State for Iraq and Iran and spearheaded 14 months of secret talks with Iran that led to a prisoner swap and release of six Americans—prompting the New York Times to cite him as "a doer" in high-stakes negotiations. He also helped build the largest international coalition in history to confront ISIS and led the campaign under both Obama and Trump before resigning his position in December 2018 following Trump's order to withdraw all U.S. forces from Syria.

McGurk has received the Distinguished Honor Award (2009) and the Distinguished Service Award (2016), the highest any Secretary of State can bestow someone in McGurk's diplomatic capacity. He is currently authoring a book entitled Three Presidents, Three Wars for publication by Crown in 2021.

If you have any questions about this event, please contact Eileen Doherty-Sil at dohertye@sas.upenn.edu. 
_____________________________________________________
The Rena and Angelius Anspach Institute of the University of Pennsylvania sponsors a well-attended annual public lecture at Penn that brings leading thinkers and public intellectuals to our campus.
Past Rena & Angelius Anspach Lecture
Brett McGurk

Dambisa Moyo
2018-2019 Rena & Angelius Anspach Lecture
Dr. Dambisa Moyo is a pre-eminent thinker who was named to the list of Time's 100 Most Influential People in the World. She writes for Financial Times, The Wall Street Journal, Barron's,…
Rt. Hon. David Miliband, President and CEO, International Rescue Committee
David Miliband is President and CEO of the International Rescue Committee (IRC), where he oversees the agency's humanitarian relief operations in more than 40 war-affected countries and its refugee resettlement and…