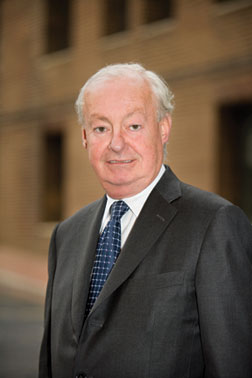 Christopher H. Browne, C'69, was managing director and a member of the management committee at the private investment firm of Tweedy, Browne Company. He also served as president of the Tweedy, Browne Funds, a mutual funds group, and was a general partner in TKB Partners and Vanderbilt Partners. A frequent speaker on behavioral psychology and financial decision-making, he served on the faculty of Harvard's John F. Kennedy School of Government's program in Investment Decisions and Behavioral Finance. In 2006 he authored The Little Book of Value Investing.
Browne was engaged with Penn for more than 40 years, beginning with his days as an undergraduate history major. He was elected as a member of the Board of Overseers of the School of Arts and Sciences in 1982 and was named chairman of the board in 1999, a position which he held for a decade. He became a member of the University's Board of Trustees in 1991 and a charter trustee in 2001.
Browne devoted himself to a host of interests. He was an amateur architect and landscape architect and a member of the council of The National Trust for Historic Preservation and the board of directors of the Institute of Classical Architecture. He was a trustee at Rockefeller University, where he established the Christopher H. Browne Center for Immunology and Immune Diseases. He was also a member of the New York City Council of the Brookings Institution, a board member of the Paley Center for Media in New York, and a trustee of the Long Island Chapter of the Nature Conservancy and of Guild Hall, a regional arts and education center in East Hampton, New York.
Thanks to his generous support, the Christopher H. Browne Center for International Politics was established at the University of Pennsylvania in 1997.